When is the best time of the year to have surgery?
Ask that question to different people, and you will get various answers and reasons behind it.
But if you ask our healthcare consultants, they will tell you the best time is whenever it is most convenient for you.
This way, we know that you can recover without any drop of stress. It might be at the beginning of a year or the end of it.
But if we have to choose one best month of having plastic surgery? It will be in January.
Yes! Because at the beginning of the year, the weather is usually cooler – this helps with swelling. And also, considering that there won't be much sunlight, it prevents visible scarring.
So if you're to have plastic surgery in January, here are the five procedures you should consider having.
ALSO READ: 8 Best Healthy Activities During Winter
1. Tummy Tuck Surgery
A tummy tuck sometimes referred to as abdominoplasty, is a surgical procedure that is designed to make the abdomen thinner, flat, and more firm. The procedure does this by removing unwanted skin or fat from the abdomen.
It is a surgery that is should only be performed by expert surgeons because of its intricacy. The abdominoplasty results are usually permanent, but it should be noted that the surgery cannot correct stretch marks.
Every tummy tuck procedure is customized according to the desires of the patient. To be regarded as an ideal tummy tuck candidate, you have to:
Be physically healthy and at a stable weight
Have realistic expectations
Be a nonsmoker
Be bothered by the appearance of your abdomen
2. Liposuction
Liposuction is a surgical procedure that aims to remove unwanted body fat from specific body parts such as ankles, necks, hips, tummy, arms, buttocks, thighs, and chin. In the medical field, this procedure is also referred to as Lipoplasty or Lipo.
It is largely regarded as a cosmetic operation, but it can be used for medical reasons on breast cancer patients who need to have breast reconstruction. It is also useful in treating Gynecomastia in men.
Since its introduction three decades ago, Liposuction has evolved alongside technology and there are now various techniques that are used to perform the surgery. The two most common methods are Laser and Ultrasound Lipoplasty as well as Traditional Lipoplasty. Each method comes with its own set of advantages and disadvantages, and the only difference is the technology used.
Like any other surgery, one has to be in a healthy condition to qualify as an ideal candidate for the surgery. Frequently, people often think that Lipoplasty can cure obesity, but in truth, this procedure does not improve metabolic abnormalities associated with obesity.
3. Breast Augmentation
Breast implants are medical devices placed under the breast tissue or breast muscle to:
Increase the breast size,
Reconstruct the breast after a breast cancer trauma,
Correct congenital formal errors,
Correct or improve the outcome of previous surgery.
This surgery usually takes two hours to perform. In some instances, depending on why it's being performed, the breast implant procedure can take up to three or four hours. This surgery has a 90-95% success rate.
The ideal candidate for this procedure is:
Women in good physical health whose breasts are sagging, flattened, asymmetrical, or lacking adequate volume.
Women who are not heavy smokers or who do not consume significant amounts of alcohol.
Women who are not pregnant or breastfeeding.
The two common types of breast implants are saline-filled (saline solution) and silicone gel-filled. Although they both have a silicone outer shell, they vary in size, shell thickness, shell surface texture, and shape.
4. Rhinoplasty
A Rhinoplasty surgery is a cosmetic procedure designed to change (for the better) the appearance of the nose. For aesthetic reasons, Rhinoplasty can either be performed to reduce a nose bump, alter nostrils, or even reshape a bulbous nose tip. This surgery aims to improve the outward appearance of the nose, either by resizing or reshaping it.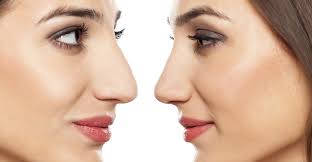 Yes, Rhinoplasty can also help better your breathing, but it is usually done for aesthetic purposes. Patients are either given general or local anesthesia -this depends on the age of the patient.
In recent years, new technological advancements have made Rhinoplasty safer for patients and simple to perform for surgeons. It has become one of the most popular cosmetic surgeries done on both women and men, and it has the highest successful life-changing results.
5. Hair Transplant
Although it may sound self-explanatory, a hair transplant can be defined as a plastic surgery procedure that is used to treat hair loss. Hair follicles are moved from one area with adequate hair growth (known as a donor site) to an area with lost hair.
Hair transplants are usually associated with head baldness, but the procedure can also combat baldness on the chest, chin and it can restore eyelashes and eyebrows.
Follicular Unit Extraction (FUE) and Follicular Unit Transplantation (FUT) are the two techniques used in the hair transplant procedure. The FUE method involves harvesting single hair follicles from the donor area and transplants them in the bald spot, whereas in the FUT technique, the strands are grafted as a barnet.
Depending on the technique recommended by your surgeon, the hair transplant surgery usually takes between 4 and 12 hours.
Not everyone is a suitable candidate for this surgical procedure. One has first to have a donor area in any part of his/her body. People who usually form keloids scars after an incision may have some complications that may negatively affect the surgery results.
This content is edited by Flymedi Medical Editors in December 2020.