It is now part of the norm to prioritize the appearance of your smile, and health of your teeth, which is why more women and men continue to visit dental clinics from time to time.
From teeth whitening to dental implants, the dental industry has been thriving in the past few years.
Scores of people are even traveling abroad for affordable and quality dental treatment in countries like Turkey, the UK and UAE. It's sort of becoming a trend. Even people from 1st-world countries, where you'd think there are world-class dental clinics, are leaving their home countries in search of affordable and quality dental treatment in foreign countries.
In this article, we will discuss six dental procedures that will more likely trend in 2021.
ALSO READ: Best Destinations for Dental Treatment
What Are the Top-Rated Dental Treatments in 2021?
If you're considering having dental treatment abroad, we advise you to do your homework before you leave your home country. It's wise if you can do a background check of the dentist, dental clinic and if possible, get hold of patients who have been to that clinic.
1. Bonding
Bonding is a dental treatment that is designed to repair teeth or to reduce the gaps between teeth. If you have fractured, decayed or chipped teeth, your dentist is more likely going to suggest bonding.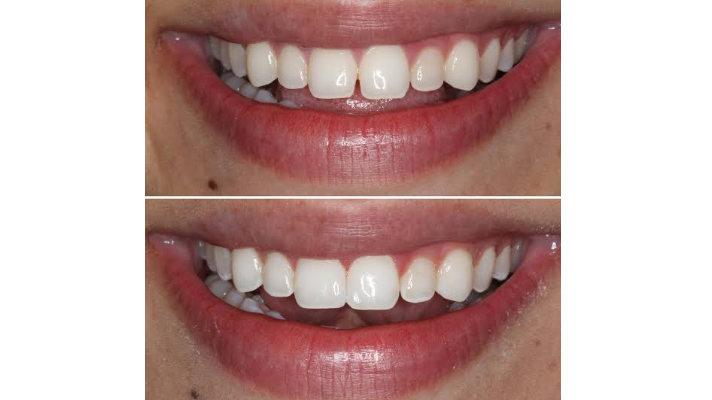 When bonding your teeth, your dentist mixes composite resin into a certain paste, then colours the mixture to either whiten or match your teeth color. A few layers are then applied to every tooth for uniformity. Your dentist will then harden each layer using an ultraviolet laser. The last step then involves shaping and polishing the resin material so as to give your teeth a natural look.
In some instances, dentists use bonding to give a youthful appearance to old teeth. This procedure is suitable for all age groups –when done on young children, the resin can be replaced as they grow older.
2. All on 4
All-on-4 is a minimally invasive method of placing a full-arch (upper or lower) dental implant bridge so as to replace missing teeth. Instead of undergoing multiple surgeries and replacing your missing teeth one by one, the All-on-4 method gives your mouth a full set and it only takes one appointment at Istanbul Dental Center.
Here are some of the advantages associated with having an all on four dental procedure:
It improves your smiling line and makes it more attractive.
They are too easy to clean and to take care, as compared to fixed dental implants.
They ideal for patients who are not capable of using a mobile dental prosthesis and who have a nausea reflex.
Unlike full dental prosthesis, all-on-4 implants are designed in a way that does not cover your palate, you will get used to them easily and they are easy to use.
The treatment duration is much shorter.
Patients without teeth can also have fixed dental prosthesis even after being given an all-on-4 treatment. They only need a single surgery for this.
It's much easier to do this dental treatment as it does not require any addition of bones or sinus elevation.
After having all-on-4 implants, there won't be another surgical process needed, this reflects that it will cost you less than the classic dental implant treatment.
Since it does not require several treatment sessions, it can also be done by foreign patients.
3. Teeth Whitening
You probably have noticed that people tend to have darkened teeth as they grow old. The most common causes of tooth discoloration are beverages such as coffee, soda and wine, tobacco products such as cigarettes, medicines used against certain medical conditions such as asthma and high blood pressure.
But the good part is there are several teeth whitening options available today. Some of them do not require dentists as they can be done from the comfort of your home. But the most effective teeth whitening method is known as laser teeth whitening. This method is a non-invasive cosmetic dental treatment that uses zoom light and high concentrations of hydrogen peroxide to create a whiter and more effective smile.
4. Tooth extraction
Tooth extraction is the last common dental procedure. If you hear people talking about tooth extraction, all they mean is the removal of a tooth from its bone socket. Suppose you have a tooth that has broken or decayed to the extent of being irreparable, the tooth will have to be removed –this process of removing the damage is what is known as extraction.
There are two techniques used to perform tooth extractions: simple and surgical. A simple extraction is usually used on visible teeth that can be removed by loosening it.
With the surgical extraction process being different, this technique is used to remove teeth that have broken off and has left some debris in the gum. In such a case, your dentist will make a small cut into your gum so as to access the tooth debris.
Whether it's a simple or surgical extraction, you will require local anesthesia. The wisdom teeth is the most pulled out tooth because it tends to cause pain when growing.
Dentists usually try to save the patient's teeth by using filling or crowns –extraction is the last option.
5. Root Canals
If one of your teeth is injured or damaged in any way, your dentist may need to open it and clean out the infected tissue in the centre. The opened tooth is then filled and the opening is then sealed. So you can think of root canals as a procedure used to treat abscessed or diseased teeth.
Having an infected tooth can build up pus which then creates abscess. Abscess can actually damage the bone around the tooth making your gums to be very painful.
6. Dental Veneers
Dental veneers are thin and customized shells that are designed to cover the front surface of teeth so as to improve their appearance. They come in different shapes, sizes, colors and the most common types of veneers are made of porcelain or composite resin. If you want to enhance the look of stained, chipped, broken, or undesired teeth, your dentist might suggest dental veneers.
Considering that they always enhance the appearance of the patient's teeth/tooth, it's safe to say that dental veneers are applied for cosmetic purposes. But in some cases, veneers are preferred as part of an overall dental makeover that includes treatment for gum disease.
If the veneers are to be replaced by a broken or chipped tooth, only one or two veneers may be sufficient, but six to eight dental veneers may also be provided to create a harmonic, symmetrical smile. The most commonly performed veneers procedure involves the upper-anterior of eight teeth.
Over to you…
Now that you know the most common dental procedures, which one do you prefer? If you are still not sure yet, you can contact us and we will connect you with some of the top dentists who have performed dental surgeries for several years.
This content is edited by Flymedi Medical Editors in December 2020