Breast augmentation is a cosmetic surgery procedure to increase breast size and enhance breast shape to provide a natural proportion and create a more balanced breast profile. While its main goal is to enlarge the breast size, breast augmentation is sometimes performed with a breast lift surgery as well.
There are many reasons for women to choose to have breast augmentation surgery. Some women want their breast to become bigger with breast implants because they want to feel more feminine, others prefer those surgeries for the perks: improved social opportunities and a boost in self-esteem and confidence.
Breast augmentation surgery is one of the most popular cosmetic procedures in the world today, and Hollywood is no different. It is the first procedure of top 5 plastic surgeries with almost 1.7 million procedures performed in 2017 according to the report released by The International Society of Aesthetic Plastic Surgery (ISAPS).
There are plenty of women who consider this popular plastic surgery, included famous ones all around the world. While some celebrities with breast implants want to keep their procedures and recovery under wraps, other celebrities are looked quite happy and excited about their new appearance.
In this article, we have prepared a list of celebrities with breast implants to help you not feel alone at your decision-making stage.
Heidi Montag
Heidi Montag is famous for her role on "The Hills", a reality TV series. Heidi is no stranger to breast augmentation surgery. She made it on our list of celebrities with breast implants for her 2009 procedure, which increased her bust to a generous triple D cup. Heidi Montag had a series of dramatic plastic surgeries over the course of 24 hours in 2009 and she revealed last year in Paper Magazine that her heart was briefly stopped because of the procedures were so extreme.
Victoria Beckham
Victoria Beckham, businesswoman, model, fashion designer, singer, and ex Spice Girls pop star also made it on to our list of celebrities with breast implants. She is believed she first had undergone breast augmentation surgery back in 1999, going from a rather flat 34A to a curvaceous 34DD. Ten years later, she had breast implants revision surgery and reduced her implants to a more subtle 34B.
Sarah Jessica Parker
Sarah Jessica Parker is best known for the hit series "Sex and the City". She's also a producer and designer but what many people don't know is the fact that she's also one of our lists of celebrities with breast implants. The 53-year-old actress is looking better than ever, and gossip junkies speculate that she also had a nose job and Botox injections– either way, she seems fabulous!
Tori Spelling
Tori Spelling, American actress and author first got her breast implants back in 1992 while filming Beverly Hills 90210. Tori Spelling, who is 45 years old and mother of four kids is believed to have undergone three breast augmentation procedures as well as a nose job and facial fillers to date.
She has doubled her beauty with these operations and like the before and after photos prove it.
Christina Aguilera
Christina Aguilera is an American actress, songwriter, and singer. Rolling Stone ranked her 58 on the list of 100 Greatest Singers of All Time – the youngest singer on the list. It is another common rumor that Aguilera has had four operations of plastic surgery since she started her career. They include rhinoplasty, liposuction, lip augmentation, and breast augmentation. In the 1990s, when her career was beginning, her breast size was a B cup size, but they later transformed to a C cup size, probably with the help of breast implants.
Rosario Dawson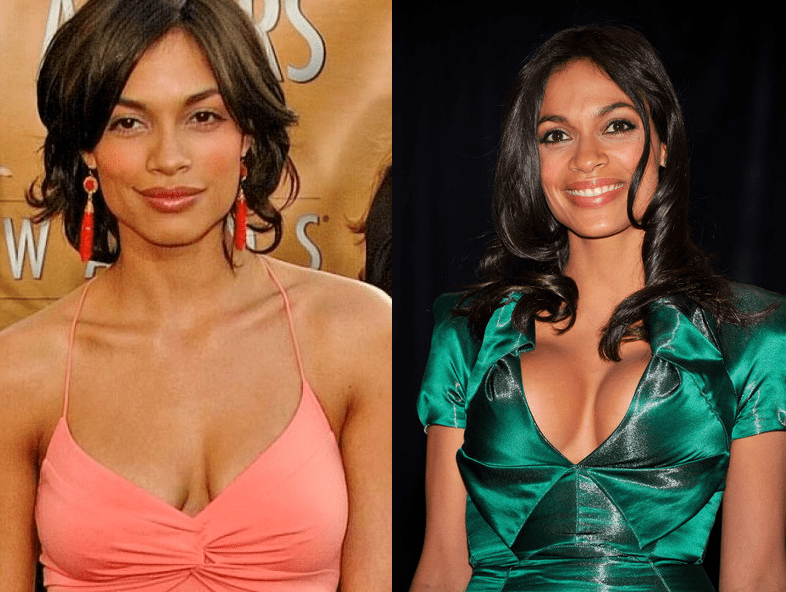 Rosario Dawson is an American actress, singer, and writer. She's best known for Sin City, Men in Black II and The 25th Hour. The 39-year-old actress appeared to be more curvaceous than ever at an important dinner in 2012. This caused a rumor that she has gone under the knife and gotten breast implants to enhance her curves. And the experts had given their positive opinion that she most likely had breast augmentation surgery, going from a B cup to a D cup.
This content is edited by Flymedi Medical Editors in March 2019.