Across the globe, different medical institutions are doing vigorous progress in medical research by updating their equipment and services so as to offer their patients the latest in high-tech medical care.
In the field of dental and oral health, Turkey's Istanbul Dental Center has taken a leading role in healthcare research and it has achieved advanced accreditation and certification in several dental and oral treatments.
With that said, here is everything you need to know about Istanbul Dental Center. Fasten your seatbelt!
ALSO CHECK: Interview with Istanbul Dental Center: Dental Crowns
The Istanbul Dental Center
İstanbul Dental Center was established by three dentist professors in 1980 at the center of Istanbul City. This dental center is located just across the Osman bey Metro Station and it is in a very popular shopping area that is filled with many hotels, malls, and shopping centers.
Managed and supervised by a team of expert dentists who have professional achievements that are renowned internationally, the Istanbul Dental Center is known for giving the best dental and oral medical care and treatment. The dental center is a conglomeration of experiences in the dentistry field, and it has been in operation for several years.
Istanbul Dental Center is driven by the goal of achieving good health and patient satisfaction, and this is something that they obtain using technologically advanced equipment and world-class dental professionals. The dentists at this clinic are sold to the belief that there must have a good rapport with their patients, especially kids by making them feel comfy and safe during treatment.
Even after the patient(s) leave the clinic, dentists have a tendency of following them up so as to ensure that the preventive medical practices are followed in the patient's post-treatment life. Istanbul Dental Center has a great reputation of keeping international patient rights and patient satisfaction requirements at all times.
Of all the Dental Clinics in Turkey, İstanbul Dental Center is the only dental clinic in the country that has an ISO 9001:2015 Quality Assurance Certification from the United Kingdom and was also accredited by the Turkish Ministry of Health for Health Tourism.
Treatments offered at Istanbul Dental Center
Istanbul Dental Clinic offers a wide range of dental and oral treatments. Be it any kind of dental or oral operation, the clinic's professional team uses advanced technologies to treat patients so as to help them keep dental and oral health at its best. The treatment options offered at the clinic are not only meant for grown-ups, but they cater for patients of all ages.
Istanbul Dental Center has an Oral Diagnosis and Radiology department that is used to evaluate the patient's radiologic imaging findings and to make a diagnosis. Before any treatment plan has been scheduled, every patient has to go through this department first.
So, with that being said, here is a brief discussion of some of the most popular treatments you can expect to have at Istanbul Dental Center:
A dental implant is a surgical fixture that involves placement of a small screw into a patient's jawbone in the space left by a missing tooth or decayed tooth. Implantology is the branch of dentistry that focuses on dental implants.
Restorative Dentistry
This is a branch of dentistry that deals with repairing the loss of a tooth that is triggered or caused by caries. The affected hard tissues of the teeth are repaired so as to restore their lost aesthetics and function.
Fixed and Removable Dentures (Prosthodontics)
There are some cases when one's natural teeth is not in good aesthetic and doesn't function well, Istanbul Dental Center can help such patients by creating customized removable prosthesis. These fixed and removable dentures are created in the clinic's laboratory.
Gingival Diseases And Their Treatment (Periodontology)
This is a branch of dentistry that focuses on the gingival disease and damaged tissues around the teeth roots (periodontal ligaments, alveolar bone and cement).
Oral and Maxillofacial Surgery
This dentistry branch deals with soft tissues of the oral cavity as well as the hard tissues within the surgical room setting.
Treatment of Temporomandibular Joint Disorders And Facial Pain
There are some cases when one can feel discomfort and pain in front of the ear, on temporomandibular joints, neck and facial muscles. In recent years, many people have been facing these sorts of pains more regularly.
Children's Dentistry (Pedodontics)
Pedodontics is the dentistry department that involves the evaluation and monitoring of oral health in children. This sector also focuses on preventive oral health.
Orthodontics
This dentistry branch is for the treatment and correction of the teeth and jaws that are improperly positioned. So as this treatment corrects the teeth positioning, it also helps one regains the lost aesthetics and functions.
Root Canal Treatments (Endodontics)
This dentistry field is concerned with the biology, pathology, treatment of dental pulp as well as the teeth's root tissues. Dentists who focuses on this treatment are known as endodontist.
Aesthetic Dentistry
This is probably self-explanatory, right? Aesthetic dentistry is sometimes known as Cosmetic dentistry, this field of dentistry aims to improve the appearance of the teeth, gums and the bite. This field improves the colour of the teeth and gums, position, size, shape, alignment and creates an eye-pleasing smile.
Meet the Dentists
If you are to have a dental treatment at the Istanbul Dental Center, expect to be treated by any of the following dental Professors:
Professor Dr. Peker Sandallı Endodontist, Peri odontologist, Oral Implantologist
Professor Dr. Türker Sandallı Orthodontics, Aesthetic Dentistry, Oral Diagnosis
Professor Dr. Nüket Sandallı Children's Dentistry and Preventive Dentistry
The Sandallı professors were educated at the İstanbul University, London University, and The New York University. They have 40 years of experience in different branches of dentistry. Our professors analyze each case individually by reviewing the photographs and radiographs of its patients in order to create customized treatment plans.
Istanbul as a Travel Destination
Napoleon Bonaparte once said, "If the Earth was a single state, Istanbul would be its capital." That statement says a lot about the beauty of Istanbul. The city is loaded with archaic landmarks and monuments that are thousands of years old. Istanbul is the only city in the world where you can have lunch in Europe while having a vivid view of Asia.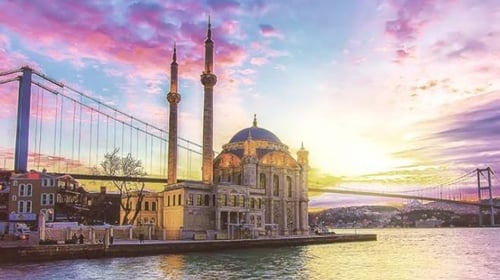 This content is edited by Flymedi Medical Editors in November 2019.