One of the smartest decisions you can ever make for yourself is to commit to a healthy diet. Many people know this, but the truth is the commitment is easier said than done.
Besides looking and feeling good, one of the many benefits that come with eating healthy is that it can save you money on future health costs. In most instances, people tend to forget that healthy eating has long term benefits that you can enjoy for years.
We all often talk about eating healthy, but do you really know what eating healthy means exactly?
Well, the discussion around eating healthy is a two-sided narrative, one side focuses on what you should eat (lean meats, eggs, vegetables, fruit, whole grains, dairy products, etc.) and the other side looks at what you should not consume (added sugar, saturated fat and sodium).
Yes, we know that there are tens of thousands of articles out there that will tell you what food is good for the body. Although this article dwells on the same topic, it is different because it focuses on the new trend of healthy meals such as the smoothies, açai, quinoa salads, and protein bars.
ALSO CHECK: Importance of Sports to Health
Smoothies (You can give a simple recipe)
Some prefer drinking them out of a glass and others would rather spoon them out of a bowl —either way, smoothies are appetizing and they provide a delicious way of consuming more vegetables and fruits.
You may know smoothies as a drink that consists of fresh fruits and vegetables that are blended with ice cream or yogurt. But they can be made from various ingredients —and this means they come in different tastes and thickness. The base of smoothies served in a bowl is usually made thick and it is a mixture of frozen banana and avocado.
Considering that smoothies are a combo of fruits and veggies, they are incredibly protein-dense especially when part of the ingredients are acai, kale and peanut butter. Veggies have all kinds of nutrients and they are a great source of natural folate that your body needs to function properly. The greens in smoothies are blended, and this makes them much easier to digest.
If you have never had smoothies before, then you should really go and try them out. Smoothies are easy to make ahead of time, although they have so many recipes, here are some of the recommended products you can use:
Açai Bowl
There is a reason why the Huffpost considers the Acai bowls as "the best breakfast ever." Acai is a delicious tropical fruit which is also known as the cool kids of the food pyramid —you probably have bumped into them while you are scrolling on Instagram.
The Acai bowls look and taste like ice cream and you can consider it as natural ice cream. When served as a bowl, Acai can give you something to look forward to each morning. Basically, you can thick of Acai bowls as really thick smoothies, especially when they are topped with peanut butter, oatmeal or fruits.
Acai fruits are hugely heralded for their earthy taste, but the health benefits associated with them has to be their strongest asset. Acai berries are a different kind of fruit, they are low in sugar but high in fat. One Venezuelan study concluded that Acai berries are not just nutrient-dense, but they also contain minerals such as chromium, zinc, iron, copper, manganese, magnesium, potassium and phosphorus.
According to Healthline Magazine, this dark purple fruit is healthy because:
It is loaded with antioxidants
It improves Cholesterol levels
It has possible anti-cancer effects
It can boost brain function
It is nutrient-dense
Quinoa Salads
Quinoa (pronounced keen-wah) is one of the few plant foods that are gluten-free and high protein. The plant is also high in fiber, potassium, iron, vitamin E and B, phosphorus and magnesium.
It's easy to prepare a salad using quinoa plants and they can be served as a meal on their own. If you want to cook or try quinoa for a salad, here is what you need to do:
Begin by rinsing the quinoa using cold running water.
Put your quinoa in a pot and add water. If you put 2 cups of quinoa in the pot, you will have to add two cups of water.
Place over medium heat and make sure that the water boils.
For 10 to 15 mins, reduce to a simmer and make sure that the liquid is absorbed.
Allow the quinoa to cool and then use it in salad recipes.
Quinoa salad recipes vary, the most popular are: Quinoa Tabbouleh, Carrot Raisin Quinoa Salad, Corn Avocado Quinoa Salad, Quinoa Fruit Salad, Southwestern Quinoa Salad and Greek Quinoa Salad.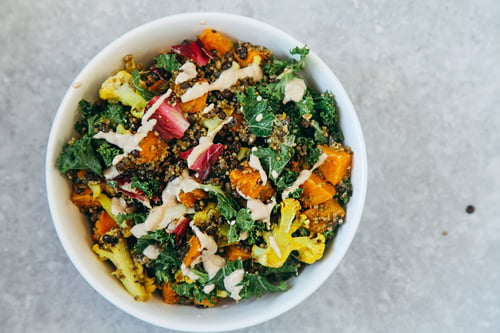 Protein Bars
If you have ever heard had people talking about energy bars, nutrition bars or energy bites, all they mean is protein bars. In grocery shelves there are quite a variety of protein bars — obviously, they differ in packaging, but they all have healthful nutrients.
Protein bars were originally meant for athletes (bikers and runners) so as to help them with their endurance levels. However, in this fast-paced world, you can see protein bars in the hands of sedentary individuals because they are very quick and convenient to eat. If you do not work-out quite often, eating protein bars can be a bad idea considering that they can make you gain weight.
If you are hoping to try protein bars, it's best if you avoid bars with artificial sweeteners such as neotame, saccharin, sucralose, and aspartame. Opt for energy bars that have natural sugar from fruits.
Over to you…
Our taste buds and our appetites are not immune to the above trending meals. If you think your taste buds are trend-proof, go and try any of the above trending meals and let us know your thoughts in the comment section.
This content is edited by Flymedi Medical Editors in October 2019