In the past few months, life as we know it, was transformed by the Coronavirus (COVID-19) outbreak. None of us saw this coming –but it all happened in a blink of an eye. Due to this unforeseen disaster, healthcare provision, travel, social norms and economies were all turned upside down.
In fact, the whole world was hit hard.
Just like any other industry, the tourism sector was also affected –this includes its subsets such as health and medical tourism as flights were cancelled and every country closed its borders.
If you think about it, millions of patients – from countries with poor healthcare systems – who really need(ed) to travel abroad for curing and treating were also deeply affected. It's really been chaotic.
In this article, we will show you the impact of COVD-19 to medical travel and how countries such as Turkey have developed contingency plans to deal with this disaster.
COVID-19 increased Turkey's hunger for medical tourism
Medical tourism is not a novice idea for Turkey. For more than a decade, this transcontinental country has been annually welcoming millions of international patients. In fact, there is no doubt that Turkey will be welcoming close to 2 million foreign patients by year 2023.
In 2019 alone, 890,000 international patients received treatment in Turkish health institutions in 2019, representing a 62 percent increase over 2018. In 2018, meanwhile, Turkey generated around $1.5 billion from health tourism amid hopes to multiply this figure in the decade to come.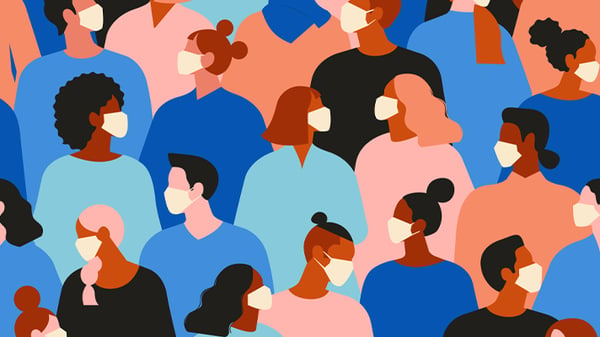 In this COVID-19 outbreak, Turkey is one of the few countries that succeeded in containing the spread of the coronavirus and keeping its death toll to a minimum in comparison to other developed countries.
Although the world has not totally defeated the virus yet, Turkey's healthcare system has so far proven to be able to handle COVID-19 at a moment when most of the developed countries are facing serious difficulties. This performance surely cements the reputation of the country's healthcare system.
Turkey reopens doors to medical tourists
Following its success in the fight against the coronavirus, Turkey resumed accepting patients from all over the world. Before the country could open its borders to international patients, Turkey started by accepting patients from 31 countries.
The 31 countries that were initially given the greenlight include Iraq, Libya, Azerbaijan, Georgia, Turkmenistan, Uzbekistan, Kazakhstan, Greece, Ukraine, Russia, Djibouti, Algeria, Kosovo, Macedonia, Albania, Bosnia and Herzegovina, Romania, Serbia, Bulgaria, Moldova, Somalia, Kuwait, Qatar, Bahrain, Oman, Germany, the UK, the Netherlands, Pakistan, Kyrgyzstan, and the Turkish Republic of Northern Cyprus.
Any international patients who require treatment in any medical conditions – bone marrow and stem cell transplants, reproductive therapy, robotic surgery, bariatric surgery and interventional radiology – are now eligible to visit Turkey medical assistance.
Depending on the patients' preferred mode of transport, they can enter the country by both land and air routes. Hospitals that accept international patients all have a dedicated floor or area that is only reserved for health tourism patients. This move is to ensure that safety, as no other person will be able to come into contact with them.
What are the preventions?
At the present moment, there's no vaccine available for the COVID-19. No medication is recommended to treat COVID-19. But that doesn't necessarily mean that you can't prevent yourself from contracting this acute respiratory disease. To avoid COVID-19, take a look at the following precautions:
1. Wash your hands often
For at least 20 seconds, wash your hands often with soap and water –especially when you have been in a public place, or after blowing your nose, coughing, or sneezing. Clean hands can stop germs or the virus from spreading from one person to another and throughout an entire community.
In case you do not have soap and water readily available, it's recommended that you use a hand sanitizer that contains at least 60% alcohol. You can tell if the sanitizer contains at least 60% alcohol just by looking at the product label. As you wash your hands using the sanitizer, make sure that you rub your hands together until they feel dry. It's also important to note that you should also avoid touching your eyes, nose, and mouth before you wash your hands.
2. Avoid close contact or mass gatherings
One of the many things you can do to avoid coronavirus is to avoid mass gatherings, or any close contact with people who are sick. If you can, it's best that you always maintain 6 feet (about 2 arms' length) from any other person, sick or not. Remember, the virus is not only spread by visually sick people, someone without any symptoms can also be spreading the virus.
3. Cover your mouth and nose with a facemask
When you have to go out in public, make sure that you cover your mouth and nose with a facemask. Even if you are wearing a facemask, continue to keep about 6 feet between yourself and others. The cloth face cover is not a substitute for social distancing.
4. Cover coughs and sneezes
Suppose you are around other people and you are not wearing a facemask, remember to always cover your mouth and nose with a cloth/tissue when you cough or sneeze or use the inside of your elbow and do not spit. The piece of cloth or tissue you used to sneeze on should be thrown in the trash as immediate as possible.
5. Clean and disinfect
Frequently touched surfaces should be cleaned and disinfected all the time. This includes surfaces such as tables, doorknobs, light switches, countertops, handles, desks, phones, keyboards, toilets, faucets, and sinks. Hard surfaces can be cleaned and disinfected using detergents, soap and wate
This content is edited by Flymedi Medical Editors in June 2020