Have you ever considered whitening your teeth? You are not alone, most people, young and old, have.
If you are to ask expert dentists from Istanbul Dental Center, they will tell you that teeth whitening is one of the most popular dental procedures today. There are a myriad of reasons why people consider having this procedure, this article is going to let you know about some of them. We are also going to take a deep look into how the teeth whitening procedure is performed...let's dive in.
ALSO CHECK: Steps to Get Best Dental Procedures
Procedure of the teeth whitening
If you are going to have a professional teeth whitening procedure at Istanbul Dental Center, then you first have to expect to have a consultation with one of the clinic's expert dentists. Not every person is an ideal candidate for teeth whitening, which is why we recommend talking to a dentist before you have it done.
Teeth whitening procedure takes between 30 and 90 minutes per-session to complete –of course, this depends on the technique used. In most cases, you will have 3 sessions on different days. But this varies from one patient to the other, and it depends on the severity of the stains and desired whiteness.
We understand that every patient is different, so we carefully plan your trip from A-Z and we hook you up with an expert dentist who can customize the procedure so as to suit your preferences, goals, expectations as well as the dental clinic's best practices. Here are some of the stages you should expect when you choose to have this procedure:
Inserting the cheek retractor
Your dentist will insert a cheek retractor into your mouth to pull the lips and cheeks back. This is not painful, and it makes it easy for your dentist to access your teeth.
Applying the protection solution to gums
To protect the gums from the bleaching agent, the dentist will apply a hardening resin.
Applying the bleaching gel
After the protection solution is applied, your dentist will apply the bleaching gel to your teeth. The gel will be left untouched for 15 to 30 minutes so that it settles well on all of your teeth.
Cleaning the gel from the teeth
When the dentist is satisfied that the bleaching gel has settled in well, he/she will clean the bleaching gel from your teeth. Another fresh gel will be applied and given 15 to 30 minutes to settle.
Using the UV or LED light
To accelerate and enhance the whitening process, the dentist will use an ultraviolet or led light when the gel is still on your teeth.
Checking up the teeth
Your dentist will check the teeth after each gel application to understand how many applications you will need. Some patients may require more than three gel applications.
After the applying last gel
After applying the last gel, your dentist will remove the check retractor. Your mouth will then be washed and the color difference will be measured.
Discolouration
Most people who consider teeth whitening state that discolouration caused by plaque or tartar is the reason why they consider the whitening procedure. The main causes for discoloration are typically what we eat and drink, aging, and tooth injuries. If you notice a change in the color of your teeth and it doesn't get better when you use any whitening products, it's a good idea to consider visiting Istanbul Dental Center for a teeth whitening procedure.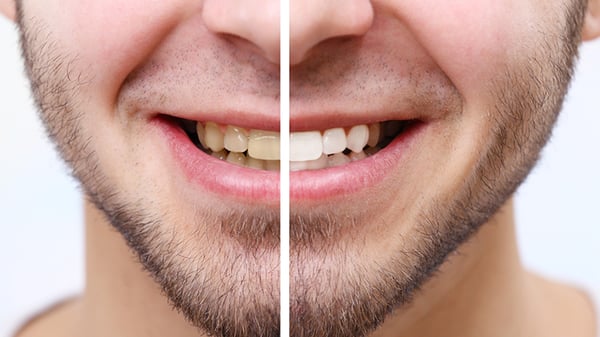 Special occasion
The best thing about the teeth whitening procedure is that it guarantees a beautiful white smile. And with a beautiful white smile, your self-esteem and confidence can be boosted even during special events. Whether it's your wedding, anniversary, birthday, or graduation—it can help you look your best.
Job Interviews
When it comes to job interviews, we all know that the first impression is more important. If you smile often during the interview, your interviewer is more likely to portray you as a friendly person. Imagine how this can go, if you have a beautiful white smile.
Effects of Aging
We all know that as we age, our teeth enamel is going to get worn down and this will more likely result in teeth discolorations, among other oral health concerns. But the good news is you can still undergo a teeth whitening procedure that will help keep your teeth as bright and healthy.
Effects of Smoking
Various researches have proven that smoking can cause dental problems such as bad breath, tooth discoloration, increased loss of bone within the jaw, among others. But if you already have discoloured teeth caused by smoking, then you should not panic. Teeth whitening can help you have a whiter and brighter teeth. It's never too late.
Diet Choices
Some of the diet choices we make are responsible for staining our teeth. Especially when they involve a lot of coffee, tea, or wine –your teeth gradually become yellowish or brownish as long as you continue with such a diet. But in all this, teeth whitening can counter stains from certain foods and help keep your smile bright and attractive.
This content is edited by Flymedi Medical Editors in April 2020